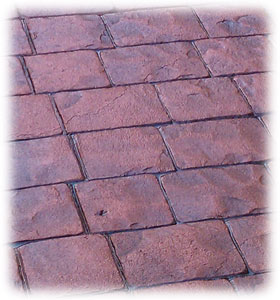 What is stamped concrete … ?
Decorative stamped concrete looks like natural stone, brick or tile, but typically costs a lot less. While the material is concrete, there's an art and a science to making stamped concrete. It starts with design choices: color combinations, pattern selections, layout. To form stamped concrete, artisans mold the surface of freshly poured concrete with a textured pattern before the concrete sets. Stamped concrete grows increasingly popular with homeowners who want beautiful patios, walkways, pool decks and driveways without the costs of brick, tile or natural stone.
Care and maintenance of stamped concrete
Like traditional (broomed) concrete, decorative stamped concrete does crack. Saw cutting limits cracking and preserves the integrity of your stamped concrete.
While applying sealer to your stamped concrete, Dugan Concrete adds an anti-skid agent that minimizes slipperiness when wet.
Depending how much foot traffic crosses your stamped concrete, you should reseal the surface every year or two. Doing this will protect your investment and keep your stamped concrete looking beautiful.
In icy weather, use sand (not salt!) on your stamped concrete. A plastic shovel is good for snow removal.